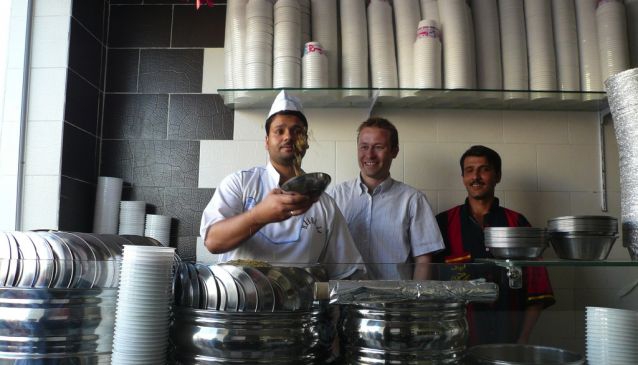 Wok Like An Egyptian
Editorial
Egyptians always use oriental spices in all their wonderfully rich dishes
One the most enjoyable things for an Egyptian to do are relish in the taste of exotic spices and flavors that come with Cairo's cooking. The signature dish of Egypt is the Koushary. Explained in detail, along with Egypt's other top four dishes, you'll soon know how to spot them, find them and possibly even cook them yourself with our guide to these specialties.
Koushary–
Koushary, though a signature dish in Egypt, is not traditionally Egyptian. The original meal was in fact Indian and was brought to Egypt by Indian soldiers in the First World War. During that time, the dish was a mixture of rice and lentils called 'Kothari'.
As a result of the mingling Egyptian and Indian soldiers, the meal began to spread through Cairo's streets. Here, the minorities, including Italians, joined in on the action and added pasta to the dish. A warm red sauce was later included, consisting of mashed garlic, vinegar and red chilies. To complete the dish, fried onions are sprinkled on top with a generous helping of hummus.
Jam-packed with vitamins and calories, Koushary's low cost makes it a valued meal among the less fortunate citizens of Egypt and is considered to be a typical lunch or dinner. The dish is so satisfying, however, that even the wealthy can't resist its tantalizing taste from time to time.
Another enjoyable aspect to this meal would be to watch the server prepare it for you – a sight that must be seen to be believed. Inexplicably, the server takes what appears to be a small amount of each ingredient and somehow produces a dish five times the size you'd expect.
Melokhia–
Melokhia, thought to have originated in the time of pharaohs, is an example of a traditional light Egyptian soup, made from mashed Melokhia leaves combined with meat broth (chicken, beef or rabbits). Alternatively, boiled shrimps broth is used instead of meat to spice things up a bit. Boiled or fried rice and fried chicken accompany the delicious dish.
Melokhia is served in a dish and can be accompanied with or without pita bread to scoop up its juices. It is usually served at lunch or dinner and can be found in any Oriental Egyptian restaurant. Alternatively a frozen serving of Melokhia greens can by bought in Middle Eastern or Asian grocery stores worldwide.
Mahshi –
Mahshi is a delicious dish of stuffed vegetables and includes eggplants, zucchini, red pepper and tomatoes. In all kinds of Mahshi, vegetables should be stuffed with minced beef, onions, oriental spices, garlic, dill and coriander.
The spices used in all kinds of Mahshi are nutmeg, black pepper and sea salt. The Mahshi are mixed together in a casserole dish with water, a little oil and a squeeze of lemon until the rice and vegetables are well cooked through.
Warak el enabis another kind of delicious Mahshi dish, this time consisting of fresh or frozen warak el enab leaves. Unlike the usual Mahshi, there are no vegetables as the leaves hold together only boiled rice and minced beef.
All kinds of Mahshi are well known in the Egyptian cuisine and can be found in any Oriental Egyptian Restaurant.
Beans and Falafel–
Beans were a primary source of protein for the mass of the Egyptian populace in Ancient Egypt and remain as such today. Beans are intricately woven into the fabric of human history and have been used throughout the world for thousands of years.
The benefits of using beans on a daily basis have recently been promoted because studies show beans help to reduce cholesterol while providing excellent nutrition. When combined with nuts, seeds or grains, they form a complete high-fibre vegetable protein.
Beans were discovered in ancient tombs kept with the mummies - a reason why most Egyptians have used beans as the main dish in their daily diet. In addition, beans are a very cheap healthy protein, which almost every citizen can afford.
Egyptian beans ('foul') are best served in a breakfast, with olive oil, cumin, salt and freshly squeezed lemon. There are plenty of mouthwatering dishes that could be prepared from the beans, one, for example, is foul eskandarani (alexandrian beans) which consists of beans, salt, vegetables oil, garlic, cumin, lemon, tomatoes and green onions. Beans can be served with fried eggs, sausages, teheni (sesame paste) and fried minced beef, mixed with a special blend of delicious oriental spices.
Falafel is another mouthwatering meal (looks as the hamburger, but vegetarian). It is a fried combination of boiled minced green beans, garlic, onions, cumin, cooking salt, celery, parsley, dill and both fresh and dry coriander, all minced and mixed up together. Falafel should be fried in deep hot oil and shouldbe served with pickles and green salad.
Both beans and falafelare found anywhere in Egypt, in all restaurants, cafés, and hotels and can even be found in the streets sold on small colored wooden cars as well.
Potatoes –
Potatoes tagen is a lovely light dish which consists of boiled potatoes cut into big pieces and small pieces of either mamb or beef meat. The delicious mix could be cooked in a casserole or tagen (a hand-made cooking deep bowl made of clay that has been used for cooking food since ancient times).
Egyptians always use oriental spices in all their wonderfully rich dishes. People can add garlic, onion, oregano, ginger, parsley, cardamom, paprika, salt and pepper, in addition to the different kinds of fried meat that it can be served alongside.
Koushary, melokhia, potatoes, beans and falafel are just the beginning of the road to experiencing Egypt's culinary wonders. After a hot spicy meal here you should to treat your taste buds by trying the oriental Egyptian pastry, mixed with roasted nuts and charming spices as a wonderful experience and a unique dessert.
Photos used -