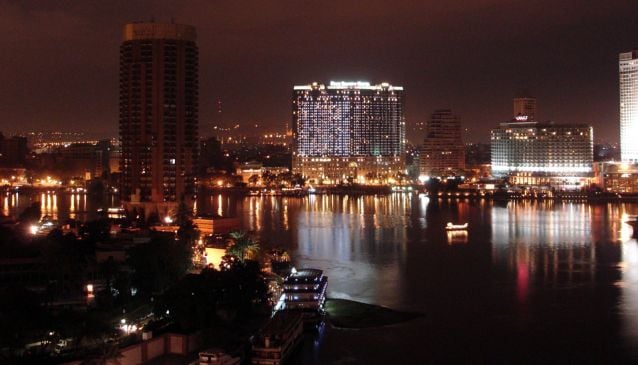 Cairo by Night
Arts & Culture
Cairo is considered to be a place of treasures; a blend of ancient history and modern life.
Cairo is a city not only to be seen, but also to be experienced.
Although most of the touristic monuments, museums and historical places are best to be visited in the daytime, Cairo has its own unique charm at night as well.
Cairo at night is a city where you will never feel stuck about where to go.
While you will always find traditional Arab cafés, complete with shisha, coffee and fresh mint tea, there are also many other places to be visited; places that will immerse the guests into the charming local culture. There are also plenty of historical cafés, some of which are a hundred years old and found in Old Cairo, competing with the newly modern cafes which are found scattered all over the city.
Walking through the streets of Old Cairo is a must, taking in the old historical buildings, monuments, markets and bazaars that are surrounded by the friendly, smiling citizens - it is a wonderful experience that cannot be missed. Khan El Khalili is one of the wonderful places in Al Azhar area (Old Cairo), a location where you will experience Oriental cafes , authentic Egyptian Cuisine and the pleasure of bargaining and shopping. Shopping in Khan El Khalili is not only the place to buy small gifts, but oriental spices, hand-made carpets, perfumes, gold, silver and best of all, copied papyrus.
Another way to amuse yourself is by visiting Wikala El-Ghouri, an Islamic piece of architecture which is open to the public every day and on Wednesdays and Saturday evenings it hosts Sufi performances as well. Sufi shows feature Sufi music and whirling dervish dances for those who wanting to experience a special night of live, Egyptian entertainment. Al-Tannoura Egyptian Heritage Dance Troupe is a fantastic show that cannot be missed.
The legendary Sound and Light Show at the Pyramids of Giza aise a great introduction into the mystery of Egyptian history. Every year, hundreds of thousands of guests attend the magnificent show to re-live the legend.
The historical and cultural values of the Pyramids of Giza and the Sphinx are simply beyond description. The latest lighting, laser and projection technologies are utilised to encapsulate the mysteries of the Pharonic Civilization and provide a stunning and unique atmosphere to the evening.
After the pleasure of watching the magnificent show, guests can pamper themselves by having a charming dinner in Cairo Gezira Tower in the Revolving Restaurant - the highest level before the open air roof. Here you can enjoy the spectacular view of all Cairo at night showing the beautiful River Nile crossing the city of Cairo, surrounded by a blend of old and new buildings, small islands and varieties of local and touristic boats and Feluccas.
A Felucca, is a small boat which sails only in the River Nile and can be rented during the day and night (when it is at its most impressive). With a reasonable rate, you can enjoy the experience of viewing the River Nile, the fresh air and the precious views.
Cairo Opera House is one of the city's most adored hotspots and considered to be one of the essential entertainment and cultural destinations in Cairo. It consists of two opera halls and an open-air theatre, lending itself as a multipurpose arena for musical concerts, ballet shows, plays, artistic seminars, art exhibitions and a musical and fine art library. It is also home to the Museum of Modern Art with a great many sculptures and hand-made statues to be viewed.
Five star hotels and most of the major hotels in Cairo are offering a wide range of different international , Oriental and Mediterranean cuisines and bars , with entertainment shows or live music. Belly dancing performances are a large part of most oriental shows and can be found on the daily Nile cruises, in most of the five stars hotel restaurants and in night clubs.
Cairo is considered to be a place of treasures, a blend of ancient history and modern life. Above all, it is a place where a civilization with ancient roots offers a beautiful life to live.
Transportation in Cairo is mainly safe at all times but it is recommended that you use metered taxis (white and black in colour) at night. Metered taxis are efficient, safe and will guarantee a fair price. The underground metro is the cheapest way of transportation for locals and safest during the day. Limousine and car rentals are also available through all five stars hotels or can be booked directly online.
Most of the five stars restaurants offer alcoholic beverages, but it is much more recommended to ask first if the Hotel or the restaurant is offering alcoholic beverages before booking your night out.
Photos used - Wireless Oxygen