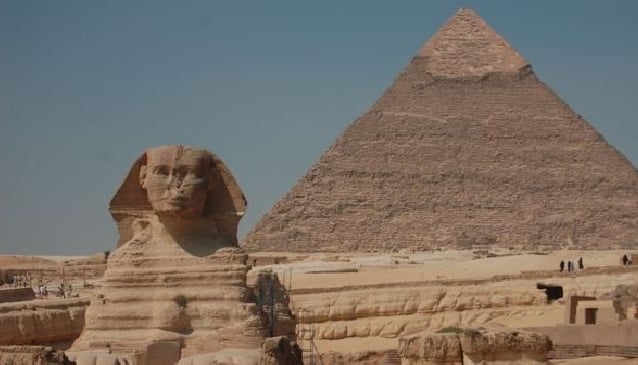 Egypt - The Mother of the World
Arts & Culture
Egypt is packed solid with ancient history, so it's impossible to do it all
The Mother of the world - so Egypt has been called. An enchanting land of contrasts: ancient history, a mix of beauty and friendly people with a welcome as warm as the Arabian sun.
Since the early ages Egypt has benefited from privileges rare to any other country around the globe. From the blessings of God to the magnificent landscapes, location, ancient monuments & climate. The great Pyramids, the enigmatic Sphinx and the River Nile have lured visitors to Egypt for thousands of years. Indeed, today's Egypt is a mix of ancient legacies and modern influences.
Egypt is bounded to the north by the Mediterranean Sea, to the south by the deserts of Sudan and Libya, and to the east the Red Sea. The Great River Nile divides the country in two, while the Suez Canal provides a third section with the Sinai Peninsula.
Beyond the highly cultivated Nile Valley and its Delta, a lush green fertile strip of land that holds more than 90 per cent of Egypt's 80 million population can be found. This landscape is mainly desert, with a few oases flourishing in the west narrow strips, such as Alexandria, which are inhabited on the Mediterranean Coast and also on the Red Sea Coast.
The coast south of Suez has fine beaches and the teeming coral reefs attract many divers and water sports enthusiasts. In Egypt the visitor can easily find some of the best locations for scuba diving in the world as well as some of the cleanest beaches.
Egypt is packed solid with ancient history, so it's impossible to do it all. But the major attractions in Egypt are Cairo, Alexandria and the northern coast, Nile cruises, Luxor, Abu Simbel, Aswan and the Pharaonic treasures, The Sinai peninsula, and the fabulous Red Sea coastline including the resort center of Sharm El Sheikh.
With a civilization dating back thousands of years, Egypt today is one of the most developed countries in the whole of the region. Transport and infrastructure are modern, hotels and accommodation feature worldwide names, such as Hiltons, Marriott, Four seasons, Hyatt, Ritz Carlton…etc, and the amenities are some of the finest to be found anywhere in the world. The spectacular Aswan Dam, which controls the annual floods that affect the country, also provides electricity to the major cities.
Both the government and private sector have encouraged investment and tourism and guest relations are placed highly as priority. In Egypt the visitor can easily find championship golf courses in the major cities, fine dinning restaurants in all the hotels and excursion packages that are professionally run and tailor-made to individual requirements.
Egypt is also great value as the cost of living is relatively cheap and in the souks and markets the visitor can find beautiful handicrafts and modern treasures.